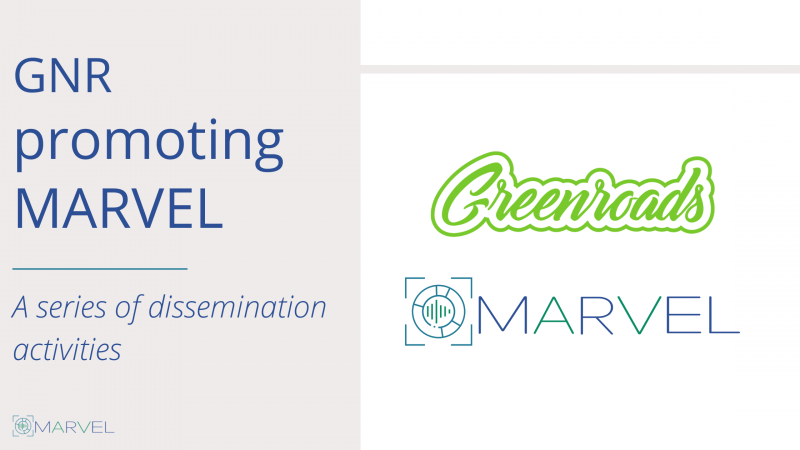 The ROTA's Safe Cycling workshop
Greeennroads attended the workshop organised by ROTA & The European Commission Representation in Malta organised on safe cycling in Malta. The purpose of this workshop is purely an educational one. The main scope of participating in this workshop was understanding the expectations of cyclists and what-if scenarios and the role that our technology could take to enable such decisions
On Monday 27th June 2022 at the Westin Dragonara Resort in St Julian's, Greennroads exhibited at the Impact Fair. The event created a dialogue around corporate responsibility and positive social and environmental impact. Johan Zammit and Claire Ciancio were on the Greenroads stand interacting with participants, while intern Tamara Micallef helped with the networking.
Communicating the MARVEL project with participants is the main outcome of the event. It was also a great opportunity to network with organizations and companies on how together we can create a better future together. The event had 34 exhibitors and 94 people attending.
the whole presentation can be accessed here.
Greeenroads participated in the EURAXESS Luxembourg Startup Hub Tour which provided international sciencepreneurs from 7 different countries – Bosnia and Herzegovina, Cyprus, Estonia, Israel, Malta, Montenegro, and Serbia – with an overview of Luxembourg's startup ecosystem, attended a pitching session at Technoport organised by Luxembourg Business Angel Network and visited the ICT Spring Fair.
EIT UM - Business Creation Start-Up Investments 2022
Greenroads participated at the EIT UM Business Creation Start-Up Investments event on July 11th, 2022, and talked about MARVEL and its role in the project. This is an initiative of the European Institute of Innovation and technology which has been working to enhance good changes in how people travel so as to make them more liveable and aims to be the greatest European initiative changing urban mobility.
Greenroads talking about MARVEL at Pitchora 2022
Claire from Greenroads was part of the investments Pitchora panel on 29th July 2022 at 09:00-17:00 at the Old university campus in Valletta, Malta, where we discussed tech investment with seasoned entrepreneurs and investors and Horizon funding such as MARVEL was mentioned as good practice to finance early innovations before they are attractive for investment. This event was part of Pitchora organised by Firstbridge.
Exploring the Future of Mass Transport in Malta
Claire from Greenroads attended the discussion and networking activity organized by the EIT Urban Mobility RIS Hub Malta and Dawra Madwarna on 15th of September 2022. Participants presented their ideas for mass transit and improved public transport in Malta during this event. The ideas were discussed with professionals and academia specialized in transport topics. This was then followed by a Q&A session and networking drinks. The aim is to positively explore possible solutions within the Maltese context, and how they could be combined or successively support each other in the process of paving the way for a sustainable transport network in the future.
Over 60 people attended the event with Greenroads making 4 new contacts with urban planners who have also been invited to the MARVEL info day to be held in Malta
Presenting MARVEL at the Eco Market in Malta
Greenroads presented Project Marvel while speaking to participants at the Eco Market stand. This event was held for the EU Sustainable Mobility Week Sat 17th & Sun18th of September in Mellieha, Malta. A preview of our machine learning technologies for smart city infrastructure with a special focus on pedestrians was previewed – showing life working examples of both edge processing and cloud. The event attracted over 300 people with over 60 people registering at our stand enquiring about Greenroads and the MARVEL projects. The presentation can be found here
MARVEL at the EIT Workshop in MALTA
This workshop was organized on 12 October at Valletta Design Cluster open to selected stakeholders only and brought together key players from the local innovation ecosystem, as well as guests from EIT and an active dialogue facilitator.
During the workshop, Horizon Europe National Contact Point Martin Vieira presented a short presentation on EIT and the state of the Malta innovation ecosystem and Horizon Europe opportunities, followed by Beatriz Camacho, Ecosystem Manager Regional Innovation Scheme (RIS) Southern Europe, and Elvira Domingo, RIS Program Manager at EIT Food presenting how EIT approaches multi-stakeholder alliances.
An active dialogue workshop followed to identify and position stakeholders on the adaptability and interest map. As part of that discussion, Johan from Greenoads had the opportunity to talk about MARVEL and Greenroads participation in the project.
Project Coordinator: Dr. Sotiris Ioannidis
Institution: Foundation for Research and Technology Hellas (FORTH)
E-mail: marvel-info@marvel-project.eu
Start: 01.01.2021
Duration: 36 months
Participating Organisations: 17
Number of countries: 12
This project has received funding from the European Union's Horizon 2020 Research and Innovation program under grant agreement No 957337. The website reflects only the view of the author(s) and the Commission is not responsible for any use that may be made of the information it contains.