MARVEL Shines at DataWeek 2023: Exploring Collaborations and Sustainability in Big Data
The MARVEL project made a significant impact at the recently concluded DataWeek 2023 conference held in Luleå, Sweden. Our team member, Dr. George Hatzivasilis from FORTH, presented a talk titled "MARVEL: Multimodal Extreme Scale Data Analytics for Smart Cities Environments", showcasing our project's substantial contributions to the field of Big Data and Extreme Scale Analytics.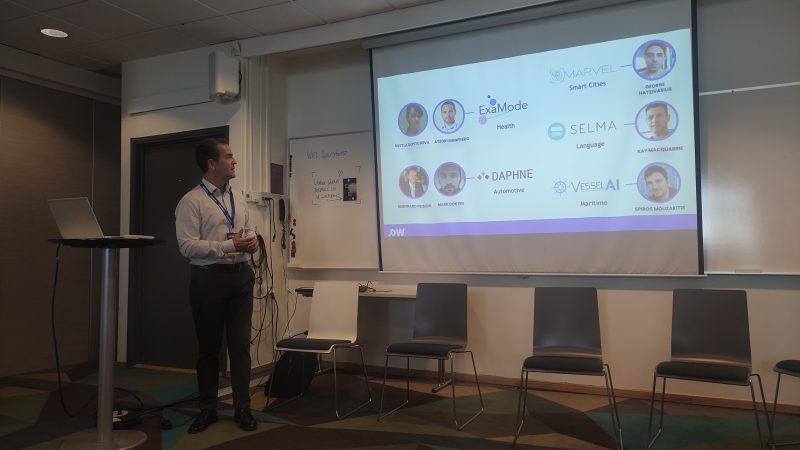 DataWeek 2023 served as an excellent platform for engaging discussions with other projects in the field, including EXAMODE, VasselAI, DAPHNE, and SELMA. We explored potential areas of collaboration, including the organization of joint events, knowledge transfer, and lessons learned events between the projects. Additionally, we discussed the establishment of a list of experts who can act as evaluators and advisory board members for the other projects.
One of the key topics that emerged during the conference was the ecological footprint of Big Data infrastructures and technologies. As the use of extreme-scale analytics expands, the overall carbon footprint is set to increase. This is a significant perspective that we, at MARVEL, are keen to address. We are committed to reducing this footprint by promoting more computations at the edge and fog, thereby reducing the communicational effort and the overburden of a data center in the cloud. Our algorithms and data processing procedures are designed with efficiency in mind, and our results can be utilized to improve the ecological footprint of a smart city.
We are excited about the potential collaborations and advancements that will result from these discussions. Stay tuned for more updates from the MARVEL project as we continue to push the boundaries of Big Data and Extreme-Scale Analytics for Smart Cities.
Project Coordinator: Dr. Sotiris Ioannidis
Institution: Foundation for Research and Technology Hellas (FORTH)
E-mail: marvel-info@marvel-project.eu
Start: 01.01.2021
Duration: 36 months
Participating Organisations: 17
Number of countries: 12
This project has received funding from the European Union's Horizon 2020 Research and Innovation program under grant agreement No 957337. The website reflects only the view of the author(s) and the Commission is not responsible for any use that may be made of the information it contains.